(Images in text by Anton Bosman)
This year's congress was one of only a few ever with a specific theme, and this year it was all about street, urban and travel photography. It took place in Johannesburg from 24 to 29 September.

Over the week we used three venues with the opening ceremony taking place in Rosebank's FotoZA gallery, the lectures in the Auditorium at Emirates Airlines Park and for the Gala dinner and closing event we went to Randlords in Braamfontein.

Most international salons nowadays have a travel and street photography category and for that reason the lectures of this congress were specially selected to fit in with our theme with handpicked speakers that will inspire and teach us about the street, urban and travel photography genres.

We kicked off the congress with a photographic exhibition of 100 congress delegates' photos in the FotoZA gallery in Rosebank. The exhibition was kindly sponsored by Kameraz. The exhibition was available for the duration of the congress. The public even bought some of the prints! Our keynote speaker was the Fujifilm sponsored host of The Candid Frame Podcast, Ibarionex Perello from Los Angeles in the USA. In his keynote address he explained to us what it takes to become a successful street photographer. He coined the term "You own the Frame" and demonstrated to us how he will select his frame in the street before making any photo. For him street photography is not a random shooting spree but rather a thought process where you firstly select your setting with very specific attention to light, shadow, colour and mood, and then to wait for the "actors" to fill the frame.

To balance Ibarionex's keynote address we followed it up with Alastair McLachlan, a fine art photographer who lived in the Johannesburg CBD for more than 10 years in order to create a body of work about the cultural changes in the Johannesburg CBD. His dedication and attention to detail had us all in awe – he is a true artist!


On Tuesday, Anton Bosman, famous Johannesburg Cityscape photographer, took us on a journey through the Johannesburg CBD with his artistic rendition of some of its most famous landmarks. His knowledge of the history of the buildings took some of us on a nostalgic trip through our childhood days. On Tuesday afternoon we put this knowledge to practise with a photo walk through the CBD led by Anton himself.
Anton's cityscape photography lecture was followed by Dale Yudelman's travel photography talk called Knockin' on Cleveland's Door. Dale Yudelman spent three months in Cleveland, Ohio exploring the iconic American city as an Artist-in- Residence with the Cleveland Foundation's Creative Fusion program. This opportunity provided the conditions to support new work, creative exchange with local artists and engagement with the Cleveland community. It was inspiring to follow his thought process to create a body of work from his arrival in Cleveland until the final exhibition.

On Wednesday the delegates got the chance to explore Johannesburg on the famous Red Bus which was for many locals a new experience! The Red Bus route was shortened as a result of the country wide Cosatu march which also took place in the CBD on Wednesday. On Friday Ibarionex shared with us all some photos he created on Wednesday by joining the march!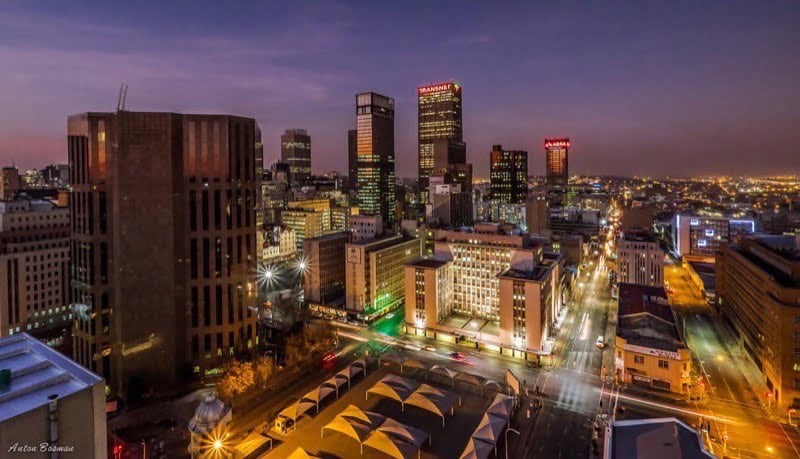 Thursday was yet another highlight with Raphael de Kadt inspiring us with his architectural and abstract photography, which was followed up by Obie Oberholzer's travel photography talk called "Follow That Dream". Like always we were not only inspired by his vision of capturing something different, but also by his entertaining way of keeping his audience's attention. He is a true artist with photos and words!

On Friday Ibarionex had the last word with a lecture on what I will call "practice-what-you-preach". He used a set of photos he made during the week with us to emphasise what he thinks is the essence of street photography. He inspired us all with his last words "The Johannesburg CBD is most definitely a great destination of street photography with great architecture and very friendly people – you are lucky to have this on your doorstep!"

I must admit that the photo walks would not have been possible if it was not for the great support of the team from CB Security who made sure we were always safe and secure under their watchful eyes. Everyday our guided outings started at sunrise and by that time they already patrolled the route for at least an hour to ensure it would be safe for us to just concentrate on our photography.

We ended the Congress on a high note with the Gala Dinner and Honours and Awards ceremony at Randlords in Braamfontein. Randlords is an up-market venue on the 22nd floor overlooking the Johannesburg CBD with great open decks available – ideal for photographers who like to photograph the CBD from above. The guests at the honours get-together were greeted by the most beautiful sunset over the city. Nobody was talking about their newly acquired honours – they were too busy taking photographs of the sunset. We could not have asked for a better way to close this year's congress activities.


Like always this PSSA Congress was made affordable by the great donations of our sponsors:
• Canon for their generous monetary sponsorship
• Fujifilm for bringing Ibarionex Perello to South Africa
• Kameraz for hosting our exhibition in FotoZA gallery and the sponsorship of the opening ceremony.
• Outdoorphoto for their monetary sponsorship
• CB Security who gave us a 50% discount for their world class armed guards' accompaniment.
• Emirates Airline Park for the discounted auditorium price
• Evelyn Gibson for the sponsorship towards the specially designed goodies bags
• PhotovaultOnline.com for the frames used for the exhibition.
• Francois and Petro Rousseau for hosting Ibarionex for the week in their "5 star B&B", he could not want for more!

Lastly I would like to thank the Congress Committee for all the hours and dedication in making this congress such a success. This is a congress we all will fondly look back on for many years to come.

Johann van der Walt

The above report can be downloaded here.

Some Congress pics