4 Nov 1948 – 12 July 2021
From AFO Fotografieklub-
It is with huge sadness that we have heard about the passing of Anne d'Oliveira. We as AFO Fotografieklub would like to express our sincere condolences and deepest sympathy to her family and friends. This is a great loss for photography, and more so for PSSA. Anne will be dearly missed.
Regards and sympathies from
the Committee and Members of AFO
---
Adri van Oudheusden-
It was a privilege getting to know Anne – really getting to know her – at Congress in Montagu. Anne and I discovered that we had so many things in common.
Anne and Franz Jesche's productions inspired AV workers so much that an extra slot for a repeat had to be found. Their productions were polished, professional and thought-provoking. Above all, it was the love for sharing that shone through.
Anne will be sorely missed.
Adri
Port Elizabeth Camera Club
---
From Marleen la Grange-
Anne will be remembered for her smile, her laughter and kind person she was.
She stood up for what was right.
She was always prepared to assist when a problem arised and willing to help.
Anne will be dearly missed.
Marleen
Witzenberg Photographic Society
---
From Francois Roux-
What a huge loss not only for me personally and PSSA, but to Anne's family and friends more so. My sincere condolences and deepest sympathy to Noelene, Denis and Geoff and all her friends during these sad times.
Anne joined the Board of PSSA in 2006. From the word go she made an impact. Her dedication and enthusiasm was contagious, she had an enormous impact on all of us.  PSSA is all about teamwork, and she was a team player par excellence. She was always there to offer her services and support, no task was ever too big for Anne to take on, she just did it. 
Her natural leadership skills saw her being elected as second vice President of PSSA, and serves as President of PSSA 2015 – 2017, a role she fulfilled with grace and with passion, but still not compromising who she was.
We became very good friends, even shared a title together, being part of the "Zipper Club" as she called it after we both had heart surgery three and a half years ago, a month apart.  Even after that, Anne just kept on dedicating herself to PSSA and photography, I could only admire Anne.
We will deeply miss her.
Francois Roux
President PSSA
---
From 2nd Vice President PSSA-
What a tragic and terrible loss not only for the PSSA but to Anne's family and friends and those of us who had the privilege of having known her. My sincere condolences and deepest sympathy to Noelene, Denis and Geoff and friends during these trying and sad times.
I am glad I was able to speak to Anne in last week and in her usual friendly and full of life approach, she was making jokes and being lighthearted. I took this as a positive response but was totally shocked when I was informed that Anne had been taken to hospital and had passed a short while later.
A real lady and one with lots of energy and a zest for life. And my goodness, did she know people in the PSSA. Anne made it her business to know its members and non-members, understood the workings of the PSSA and served it well with professionalism, dignity and pride. A wealth of knowledge, an advocate for the PSSA and amateur photography and a friend to many, has now gone to rest.
I will miss you deeply Anne and your wise counsel will be sorely missed. You however will never be forgotten.  Sleep peacefully Anne.
"Death takes the body. God takes the soul. Our mind holds the memories. Our heart keeps the love. Our faith lets us know we will meet again."  Author unknown
Simon Fletcher
2nd Vice President PSSA
---
Dear members and executive of the PSSA
You all join us as a club as we mourn the passing of a lady who has done so much for photography in general, but more so for the PSSA and all those affiliated with it be they members or not.
Anne was a pillar of strength to our club in the good and the difficult days, where she had the ability to always be there for her clubs and always seemed to have the time when she must have been so busy with many things. Not only was she the finest of leaders but also an accomplished photographer and dedicated member of her own club for many years.  We will always remember the long (!) conversations, her sense of humour, her quiet compassion (even if she didn't suffer fools that well) and her tenacity. She was a shining example to everyone she met.
My goodness we will all miss her. Rest well dear Anne and hope to see you soon on the other end of the lens.
Best regards and sympathies from the Committee and Members of WRPC
Roland Cundill
Chairman
West Rand Photographic Club
---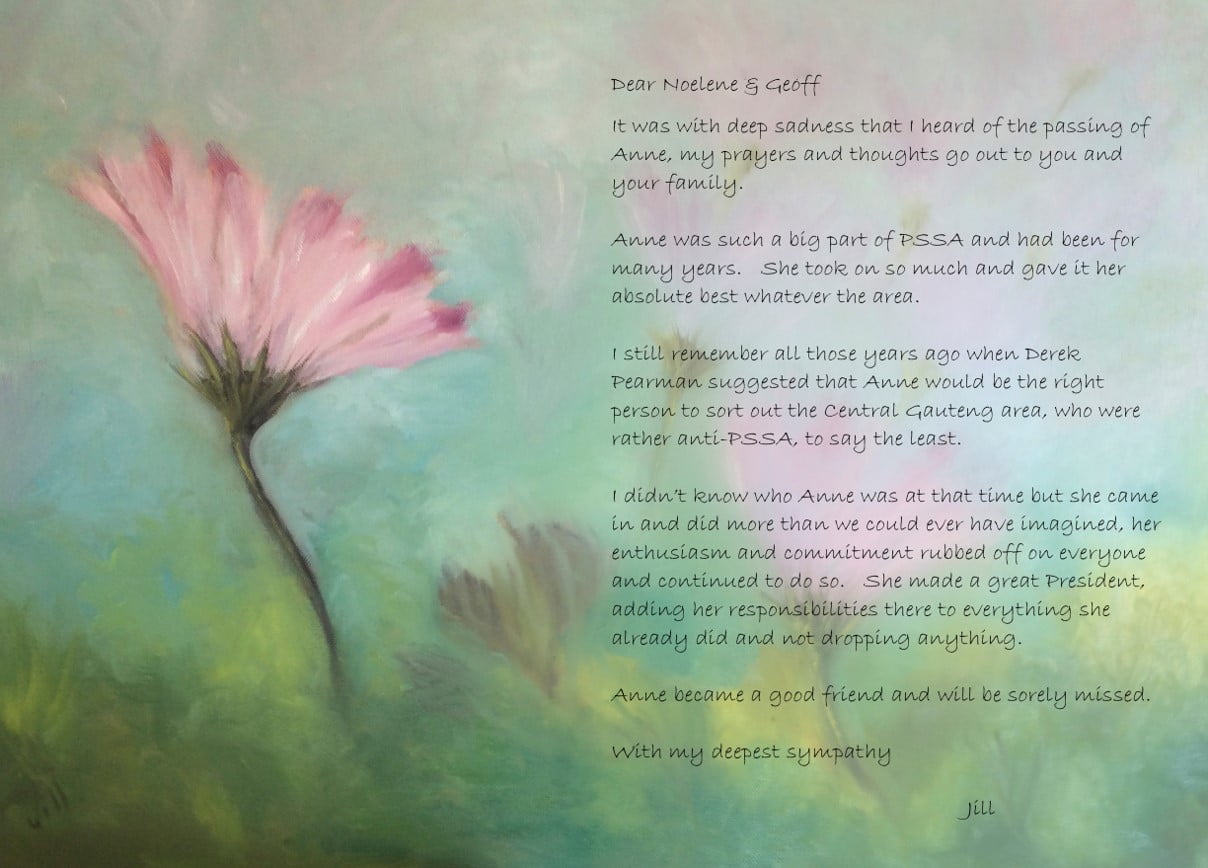 Jill Sneesby
1st Vice President PSSA
---
From Bethal Photo Club-
We are so saddened to hear about Anne's passing. We extend our deepest, sincerest sympathy and condolences to her family and friends.  We will miss her passion and dedication to photography, her sense of humour and kindness to every person she has met.
Anne was always willing to do her part for photography and gave advice honestly and sincerely.
Maya Angelo quotes: "a Great soul serves everyone all the time. A great soul never dies. It brings us together again and again."
Rest in Peace Anne
Jannes Drotsky
Regional Director Mpumalanga
---
From Kagisho Molaba-
Rest well Anne d'Oliveira, all your ideas and advices in photography will live forever.
Love, Kagisho
Krugersdorp Kamera Club
---
From the PSSA webmaster-
Apart from knowing Anne from club meetings, regional competitions and congresses, meeting face to face sometimes at her place of work to discuss huge changes on the website, I got to know Anne over the years for all the content I have had to publish for her on this website. Apart from all her other virtues as already mentioned in all of the tributes below and those still to come, Anne had a way of writing a very kind email with lots of information in it explained really well and to the point, always apologising for all the work she was giving me to publish (her portfolio was really large), but then the best of all, the way she always thanked me after I had published whatever was needed. Apart from thank you, always with a compliment to make one feel good! Anne was indeed a people's person and I can see from all the tributes that she will be remembered for that. She introduced me to Audiomachine's Tree of Life music on one of her AVs that was shown at a congress one year, it will always remind me of her!
RIP Anne, you have touched the lives of many and achieved plenty in your life time!
Melanie
Director PSSA Website
---
From the Western Cape Photographic Forum-
On behalf of all the photographic clubs in the Western Cape we would like to express our sadness about the passing of Anne d'Oliveira, who was PSSA president when the forum was established. Many members got to know her through her active and very sociable participation in congresses where she made many friends by engaging with all. Even though she never drank, she could keep a party going till late. Her laugh and the laughter of those around her would make Anne stand out in any crowd. I always enjoyed our frank and often forthright engagements and admired Anne's wit and intelligence and ability to cut to the core of a problem. Her willingness to take on hard work is unrivalled. It would be a mammoth task to fill her shoes.
Nicol du Toit
Regional Director Western Cape and WCPF chair
---
From Geoff Feldon-
Shortly after joining Westville Camera Club Anne told me I had to join PSSA. (She usually told one what to do rather than suggesting). A few years later she asked (told) me to put myself forward to stand as a director. I am very glad that she did as I have thoroughly enjoyed my time as a director and have learnt so much. I am going to miss our loooong discussions about all things photographic from PSSA to running clubs and even photography itself. Her wealth of knowledge, including outside of photography, was vast and I have learnt so much from her over the years. As a sister-in-law she really was like a blood sister. She always cared deeply for all her family and once you married into the family to her you became "family". Always there when needed.
Anne is going to be greatly missed and by none more so than her sister, Noelene and brother Denis.
Geoff
Regional Director KZN
---
From Trudi du Toit-
I'll so miss Anne's spontaneous laugh, her quick wit and sense of humour, her courage to speak her mind, her sharp honing in on the crux of a problem while others mull around, her willingness to take on more and more work, her sharp eye as a proof-reader, her support of our congresses here in the Western Cape – including Montagu – and on a personal note, reminiscing about our school days in opposing girls' high schools in Johannesburg during the '1960's.
Trudi
Cape Town Photographic Society
---
From Nicol du Toit
We'll always remember your dedication to the PSSA and your sense of humor. Your laugh will stay with us forever.
Nicol
Cape Town Photographic Society
---
From Benoni Camera Club-
Anne was a pillar in the Photographic community.  With all her wealth of experience and insight into Photography she was always all too willing to help others and share her knowledge.. Anne you will be missed…Condolences to all the family and friends.
Shane Else
Regional Director Eastern Gauteng
---
From the Edenvale Photographic Club-
We would like to express our profound shock and extreme sadness at the passing of Anne, one of our most beloved judges and fellow photographers! She attended many of our meetings, was always willing to lend a hand, offer advice and judge for us at the drop of a hat. She will always be remembered for her kind words, ever-present smile and photographic inspiration.  She will be sorely missed by us and the photo community at large. We would also like to extend our heartfelt condolences to her friends and family.
May dear Anne rest in peace.
Heidi Broschk
Edenvale Photographic Club Committee
---
From the Krugersdorp Camera Club-
Anne was so much more than just a Regional Director to us for more than a decade. Anne knew the members, their achievements, their interests and so much more. She always went out of her way to chat to as many as she could whenever she visited our club. Anne was a good friend and mentor to us. She was always very passionate about the PSSA and promoting the Society. She was always willing to support and help where help was needed, but most importantly she was always interested in what was happening at our club. It was always such an honour to have her judge our Best of the Year Competition and we were really looking forward to having her join us in a few days via Zoom for our AGM. It is with great sadness that we have to say farewell to a very special person. Thank you for all the hours you offered to us, for your passion for photography that you shared in abundance. Your place is empty, we are very sad that we will never again stand and chat around the food table at club, we will miss you. Rest well dear Anne.
Corine Ross
Director Salon Administration
---
From Heidi & Michael Broschk-
We considered Anne a friend, a mentor, a reliable & fair judge, a walking dictionary of the PSSA and AVs (hers were fantastic) and an inspiration. She was always kind, always involved in the photo community, assisted anyone with a smile or joke and we admired her friendliness & generosity of spirit and character. Many camera clubs, photographers as well as the South African photo community will not be the same without her.
RIP, dear Anne, Michael and I are richer for having known you, and we will miss you dearly.
In sadness and grief
Heidi and Michael
---
From Pretoria Photographic Society-
All at the Pretoria Photographic Society send our deepest condolences to Anne's family and friends on her untimely passing due to Covid. She leaves behind a legacy in the field of photography and will be missed. RIP.
Thelma van der Schyff
President PPS
---
From Evelyn Gibson-
Anne was such an organised person, an implementor, huge attention to detail, a leader. She was very dedicated to PSSA and this is a huge loss to our Organisation. Her and I had many conversations together and she always encouraged me in every way possible as the PRO of PSSA. I will miss her. I travelled with her to quite a number of Regional Congresses and to our National Congresses as well. She would never let me help with the driving, she always wanted to do the driving which I appreciated very much.
From the clubs in her Region of Central Gauteng – As Regional Director of Central Gauteng – The clubs said she made a difference in all the clubs, always attended their AGMs, visited and judged for them on a regular basis, she was so dedicated. She has left deep footprints in the club members hearts. She always made a point of always chatting to all the members when she was there.
In the many tributes being made on PSSA FB page from all the clubs the same messages are coming thru. She made a huge number of friends who are all heartbroken to hear of her passing but they are all sharing special moments and memories of what a special and dedicated person she was to all in this wonderful hobby of ours Photography.
Evelyn
Director Public Relations